Forty Seven Brand Website
An online boutique experience for the fashion-conscience sports fan
This AIGA B(o)NE show winner was one of only five websites recognized out of over 500 total entries in the 2008-2009 year. It was also featured on Smashing Magazine's "35 beautiful e-commerce websites" gallery blog post in early 2010. See it live now while you still can and click on "look book" for the super fancy stuff.
Responsible For
Art Direction
Photo Styling
Design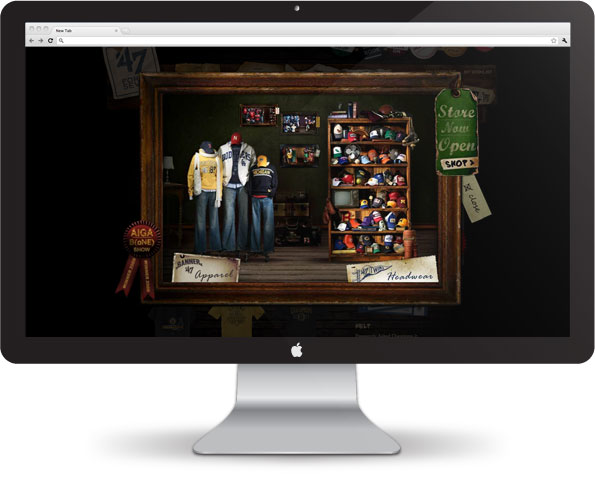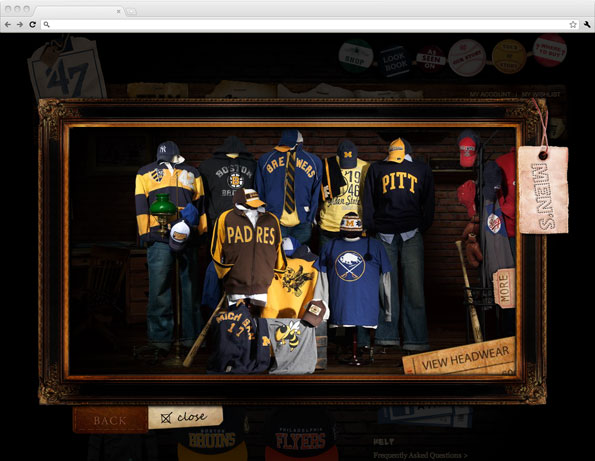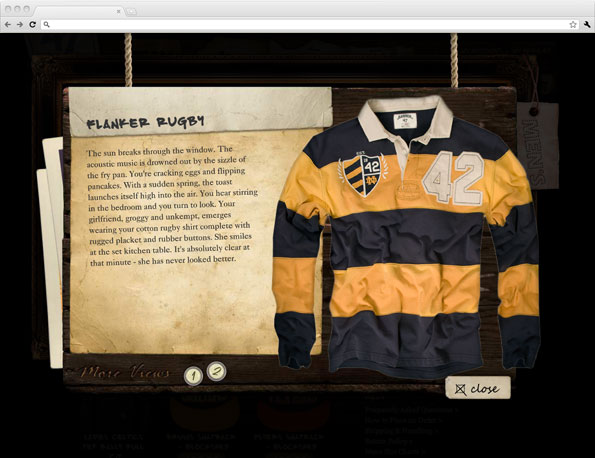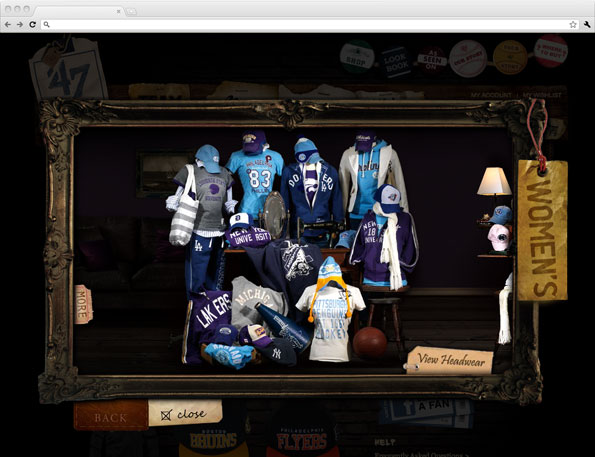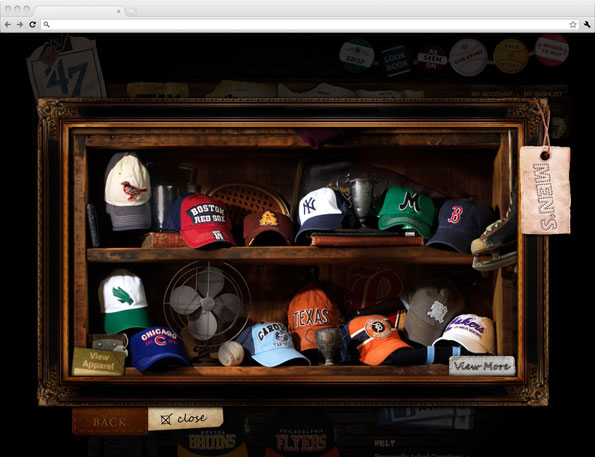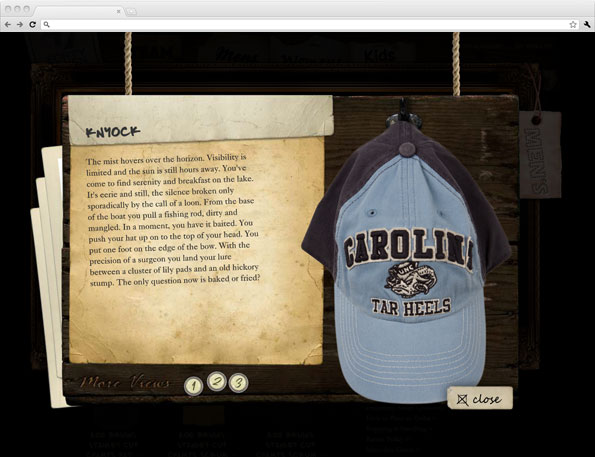 47 Brand Boutique
A bold and masculine identity system for the 47 Brand flagship store at 286 Newbury St. Boston
I created these pieces while working as the Art Director of Forty Seven Brand. A conscience choice was made to find a bold atheletic pallet and mascot that couldn't be mistaken for any existing pro sports team as we catered to the needs of all professional sports licensors.
Responsible For
Art Direction
Copywriting
Illustration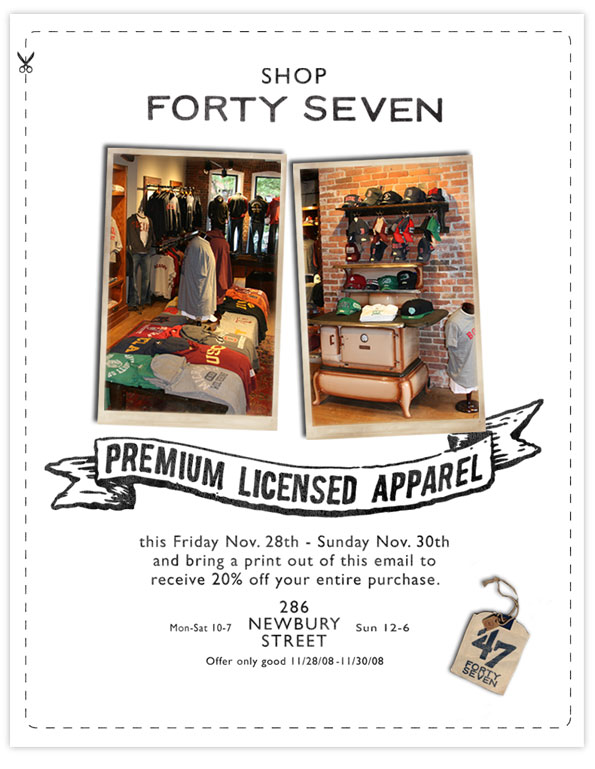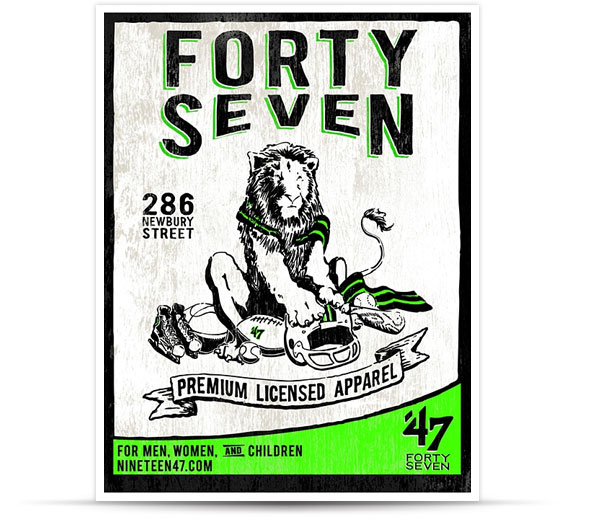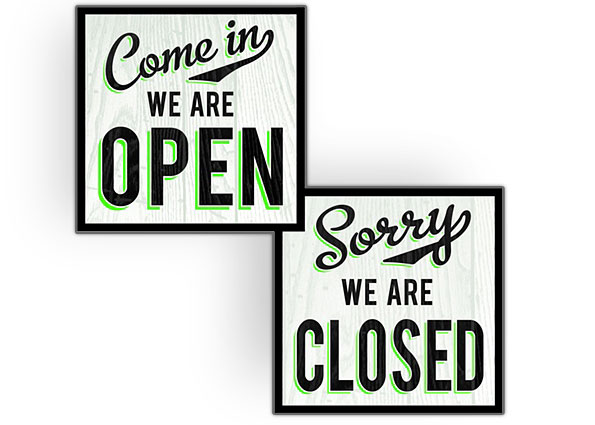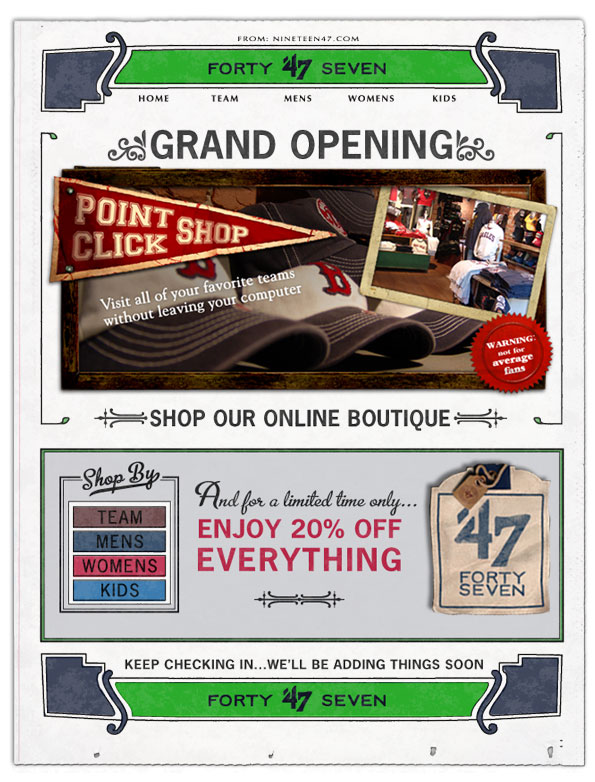 Barrier Island Partners Website
A uniquely modern yet conservative site for a new breed of private equity firm
The team at Barrier Island Partners wanted to steer clear of any traditional investing imagery as well as dodge any island/beach theme. They fell in love with this sophisticated color pallet and custom topographic map illustrated background.
Responsible For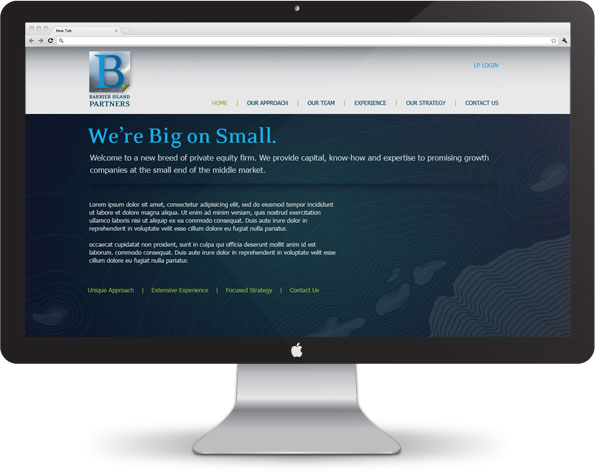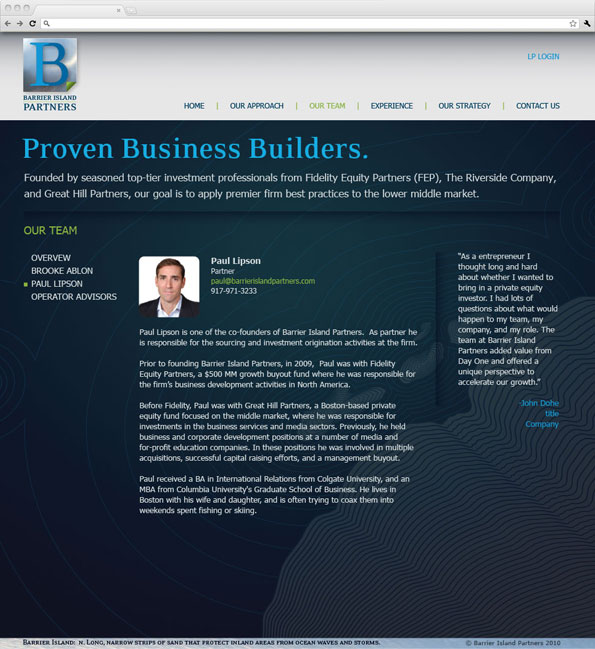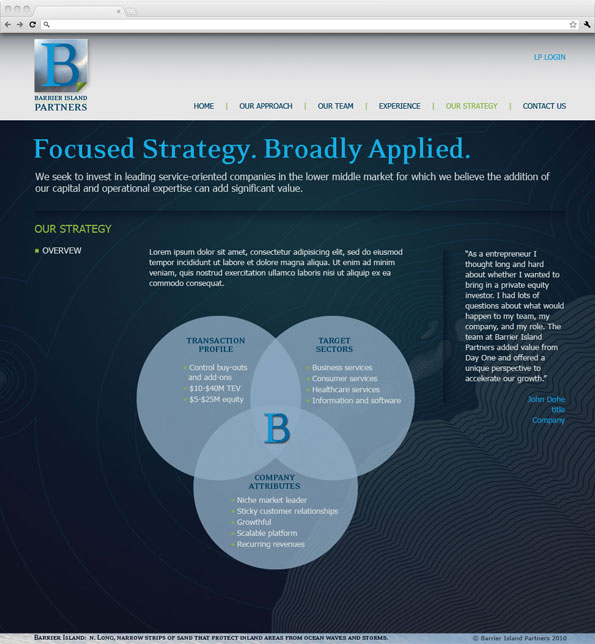 College Vault Box
An impressive piece of direct mail that put the brand on the map
I was tasked with making something that would get a foot in the door at top accounts as well as protect the brand's exclusive reproduction rights to the "College Vault" logo packages. This mailer was instrumental in proving to the Collegiate Licensing Company that Banner Supply Co. was taking ownership of the intellectual property and really making it shine. It opened over 20 key accounts that purchase upwards of $1.5 million worth of product annually.
Responsible For
Concept
Project Management
Art Direction
Illustration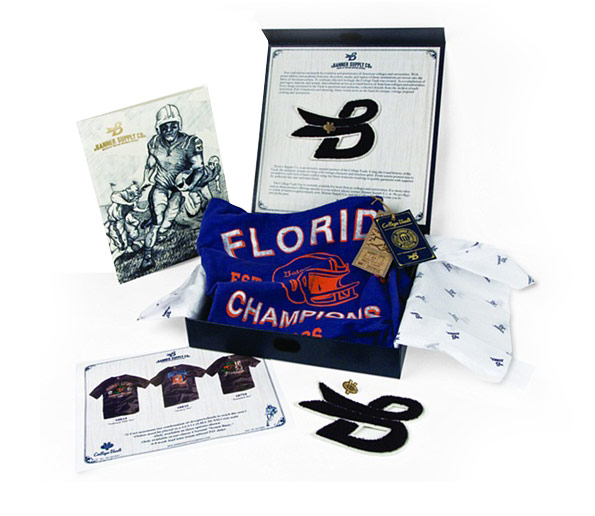 Forty Seven Brand Print Collateral
Vintage inspired printed pieces that raised the bar well out of the reach of the competition
These are some selected printed materials from my time at Forty Seven Brand. They were given to key accounts and used at tradeshows.
Responsible For
Project Management
Art Direction
Illustration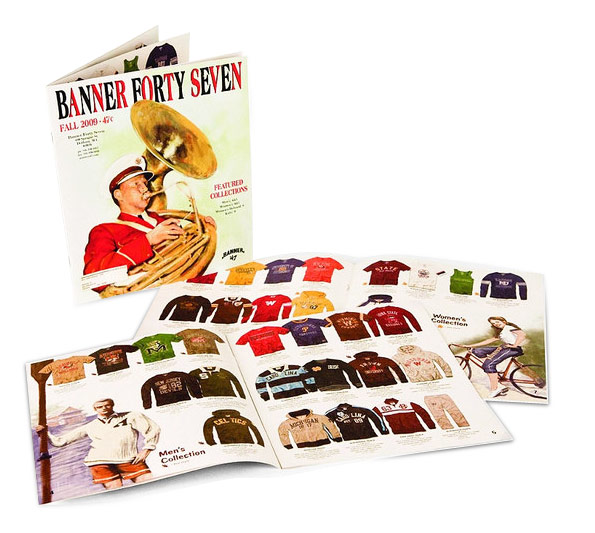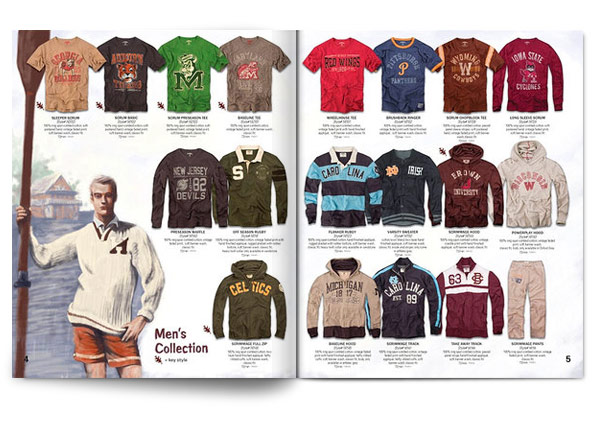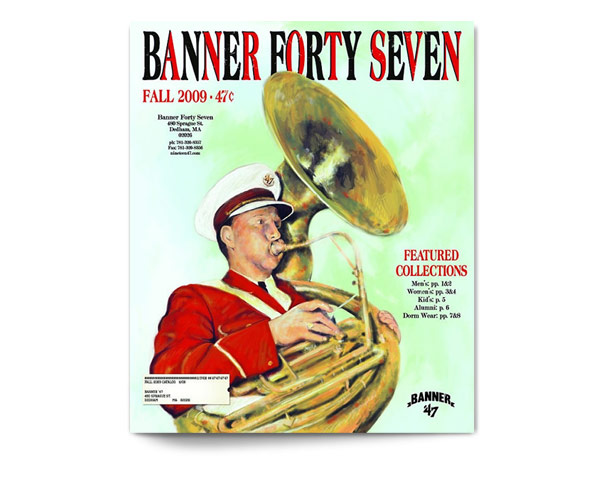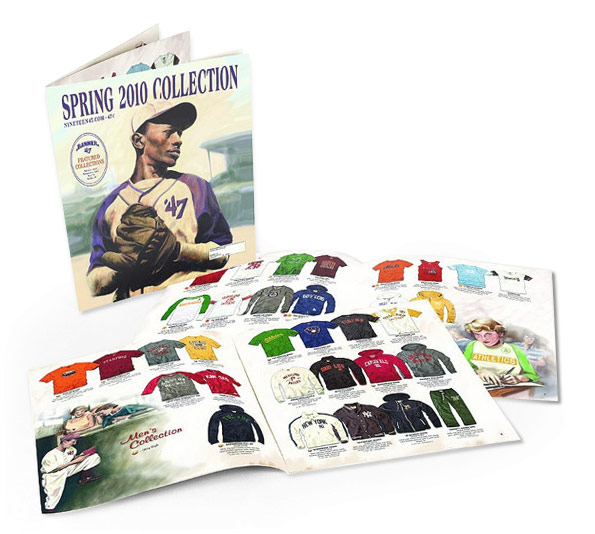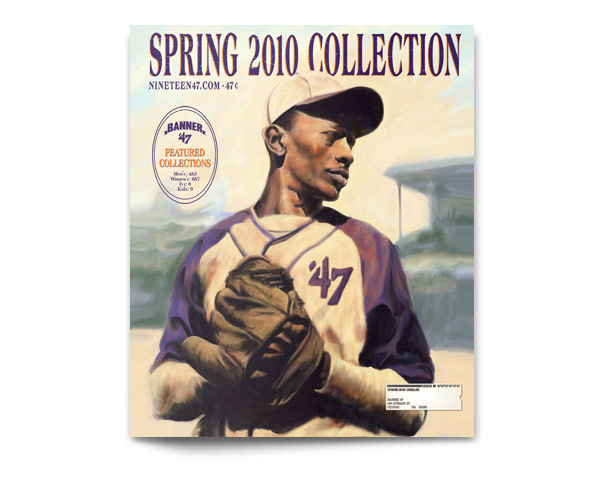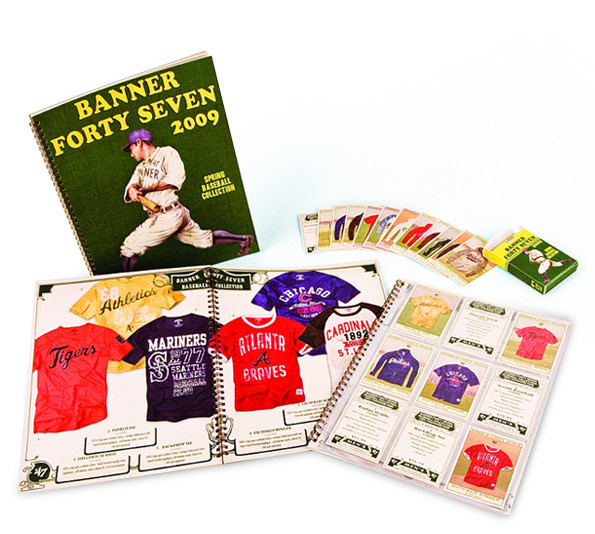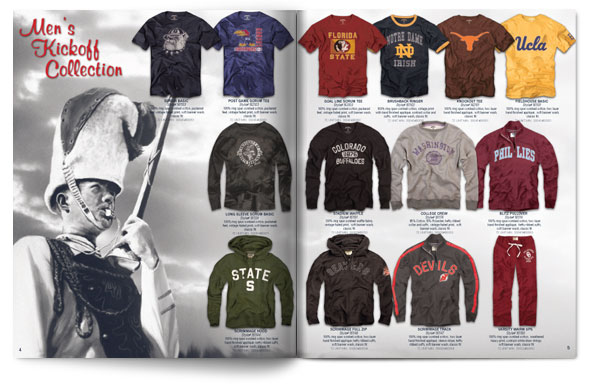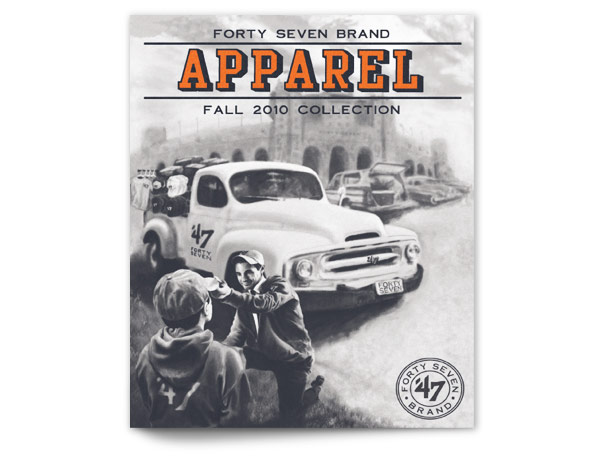 Drawn Together Website
Custom illustrated invites for your most special events
This is a personal project I designed for a custom wedding invitation business my wife and I started recently. It's a small site full of personality. It does a fine job of giving prospective customers an understanding of the business process while showcasing some beautiful work. It was developed with Drupal (a powerful CMS) to make additions to the portfolio section a snap.
Responsible For
Project Management
Copywriting
Art Direction
Illustration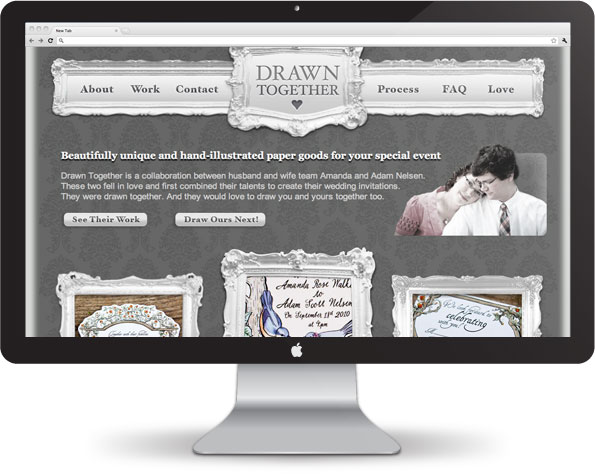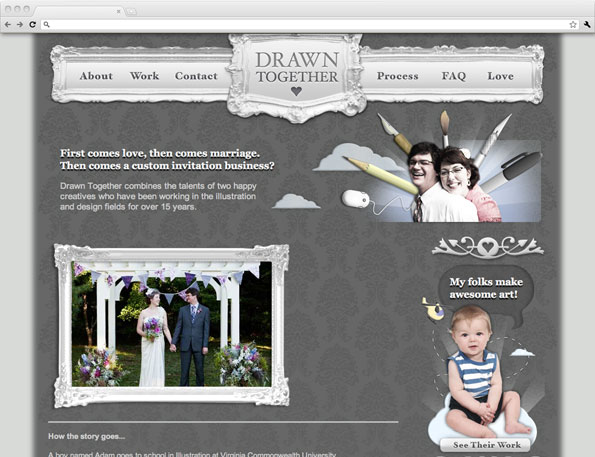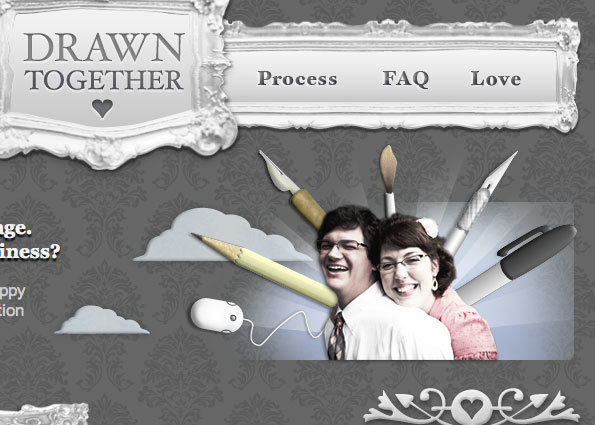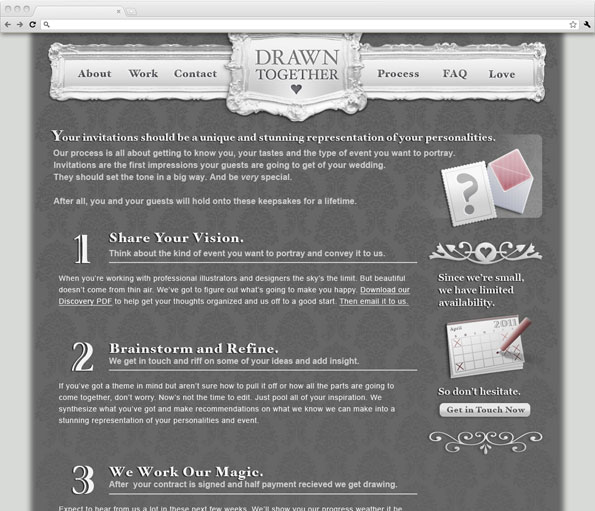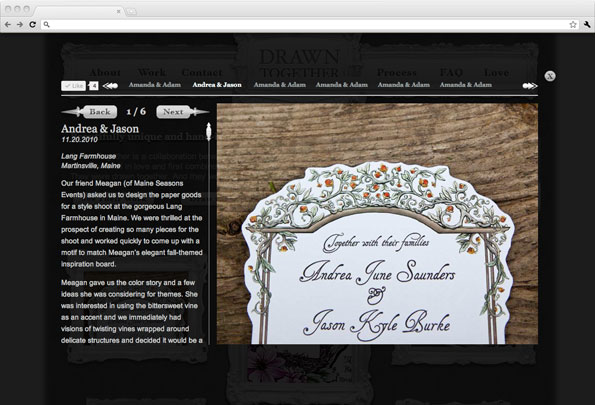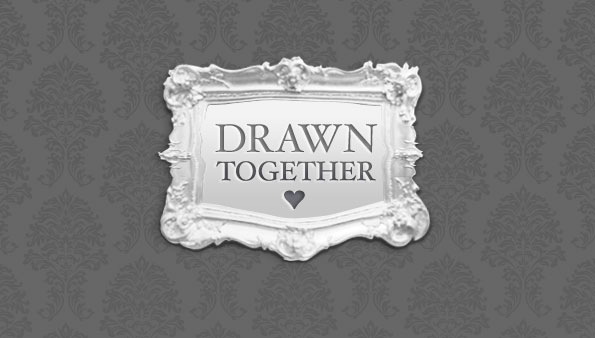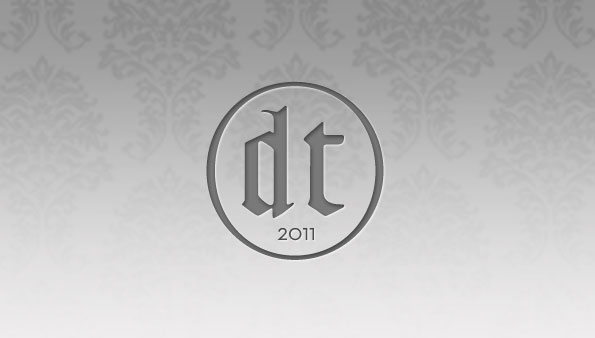 Star Wars and Striderite
A special freelance project executed in a week for a very happy client at Striderite
I was given the opportunity to work with a ton of awesome Star Wars property for these shoebox designs in early 2010. The rose window on the corner of the original Star Wars box as well as the futuristic grey and red starship elements on the Clone Wars box were custom made and approved by the George Lucas team. (no easy task) My lovely and talented wife helped me make the deadline. She's a photoshop whiz too.
Responsible For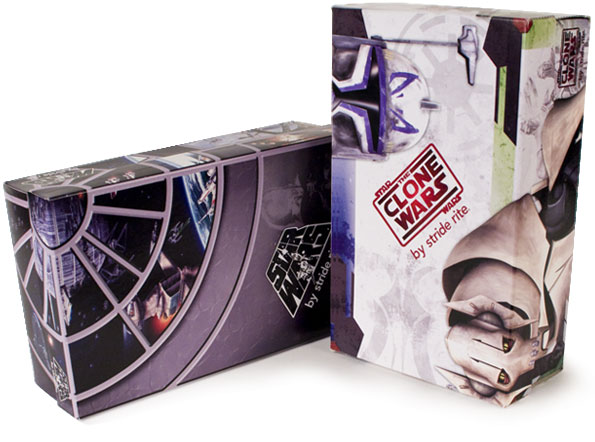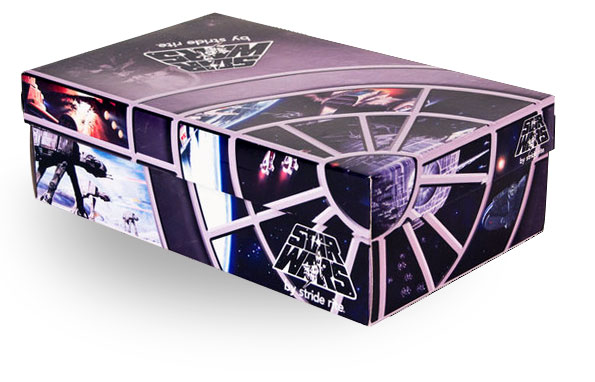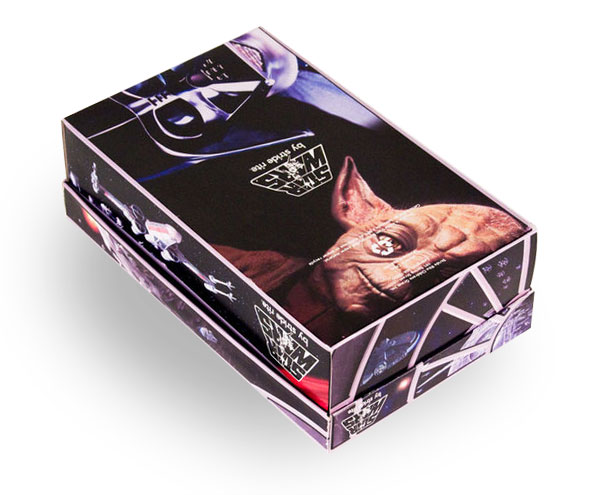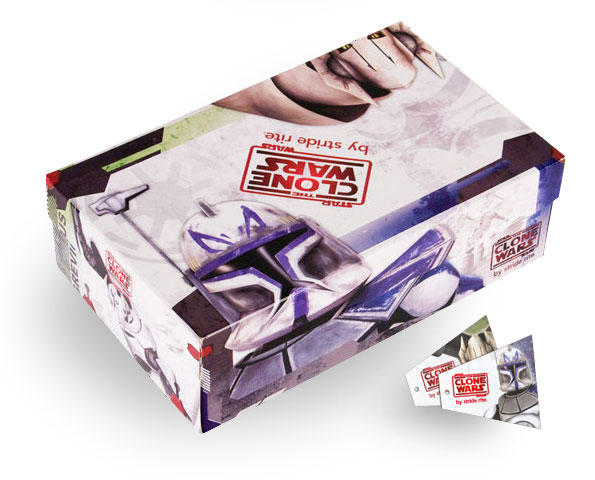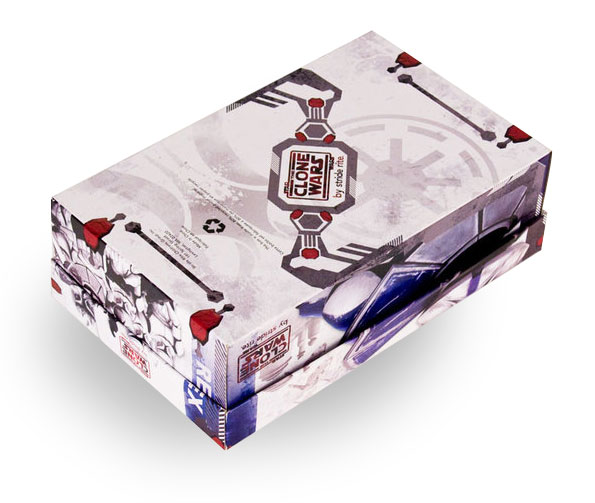 Bryant and Stratton College
Highlighting what really makes a difference when it comes to career education
The team at Bryant and Stratton College had a leg up on the competition in terms of personal education and a dedication to lifetime sucess. This major web redesign and internal email campaign ensured employee focus and communications remained on their core strengths by placing real student/professor sucess stories in the spotlight on the home page, print ads, display ads and landing pages.
Responsible For
Design
Copywriting (email campaign)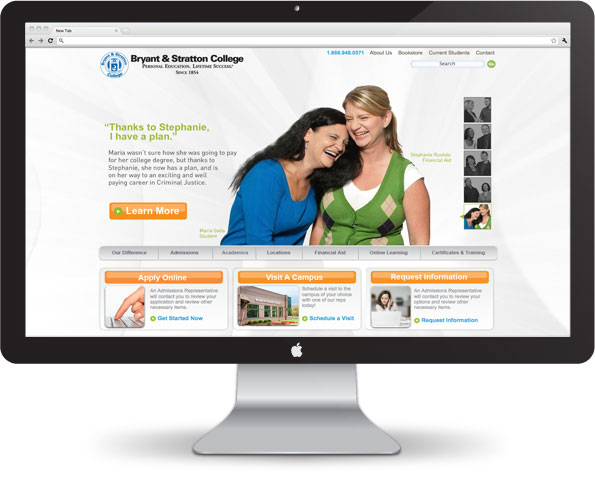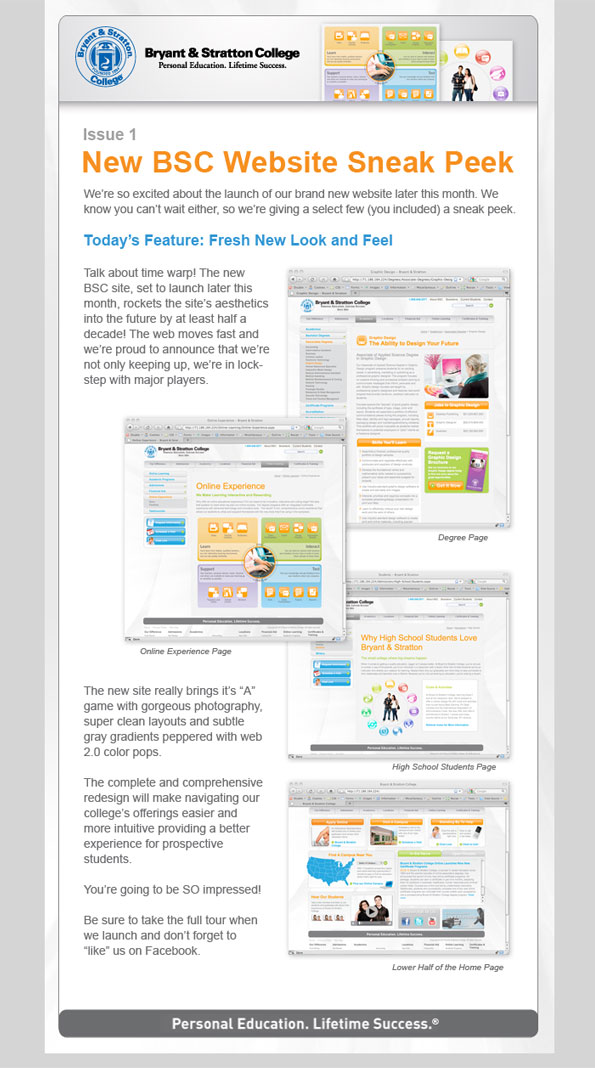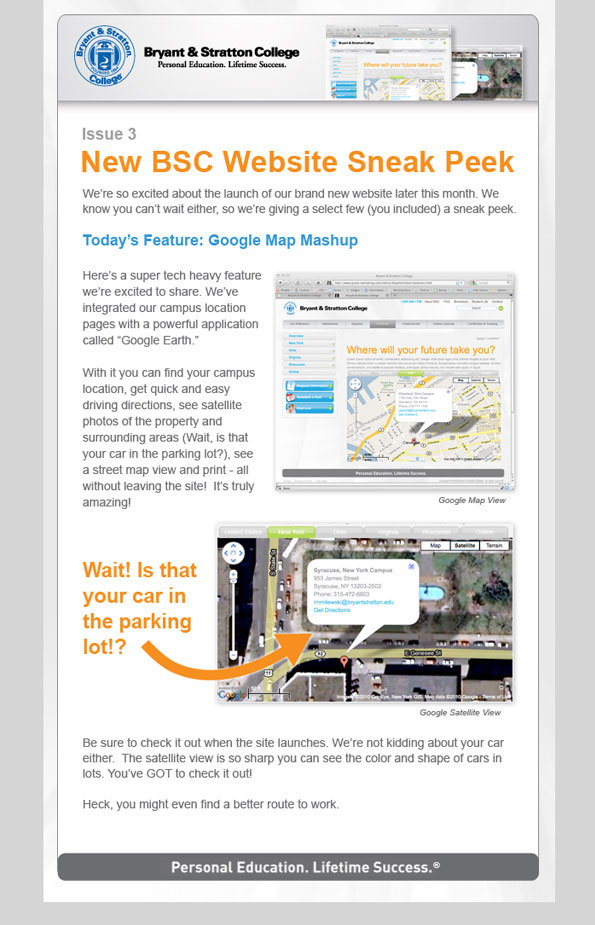 Rand Worldwide Family of 4 Sites
Four unique brand identities under one framework
Rand Worldwide has four major brands working in the software, training, courseware and data archiving industries. They needed newly revamped identity stytems and websites for all four companies. Selected screen grabs from Rand.com, Imaginit.com, Ascent.com and randsa.com are shown here.
Responsible For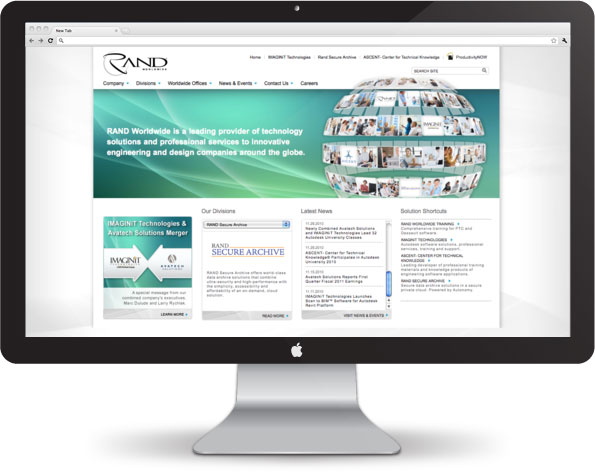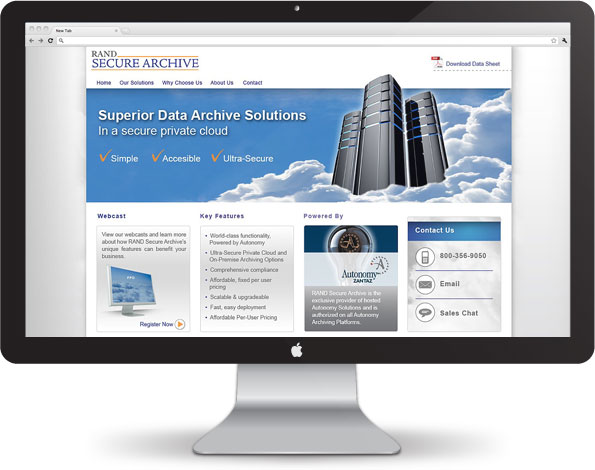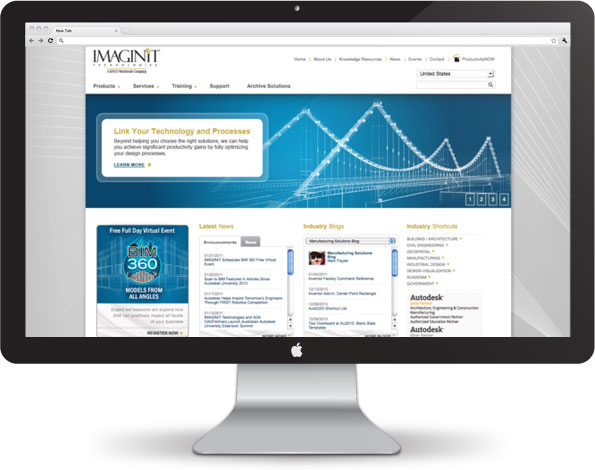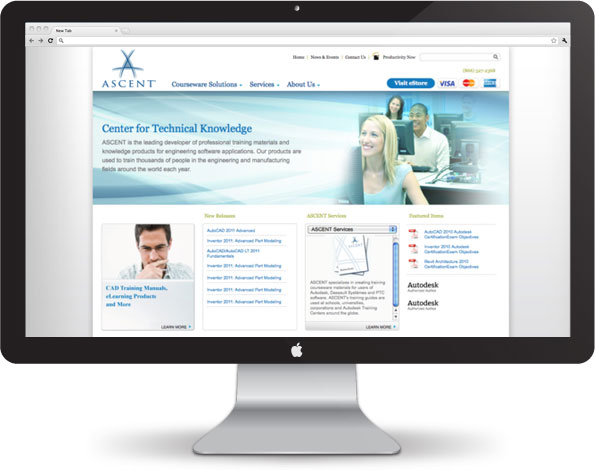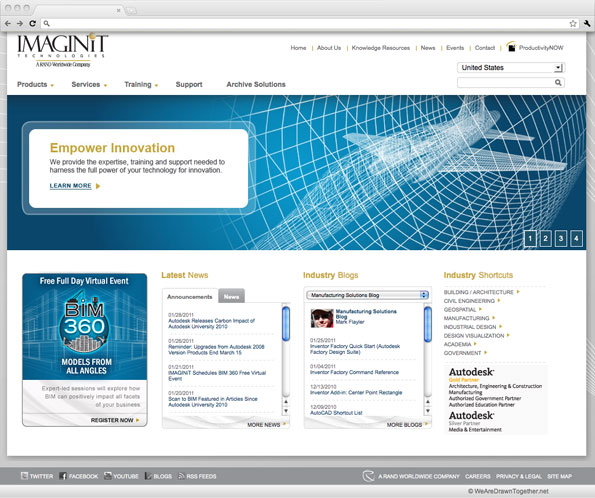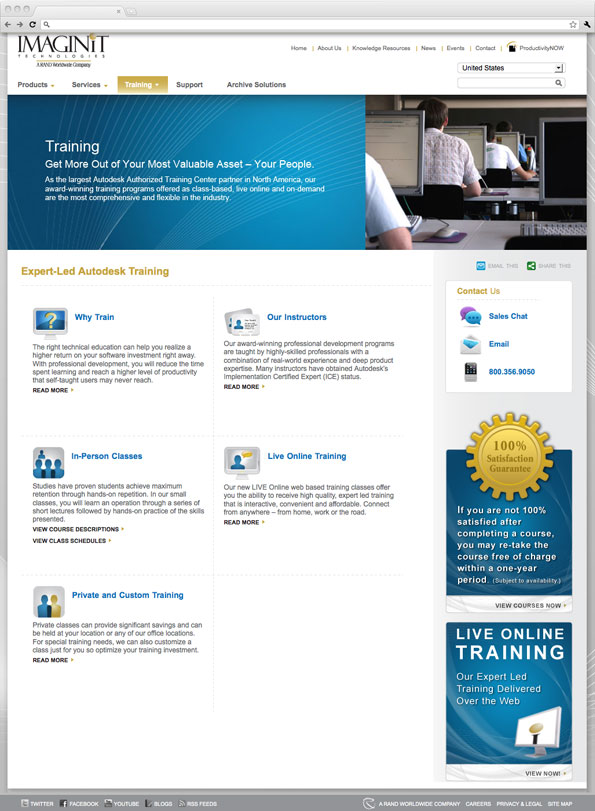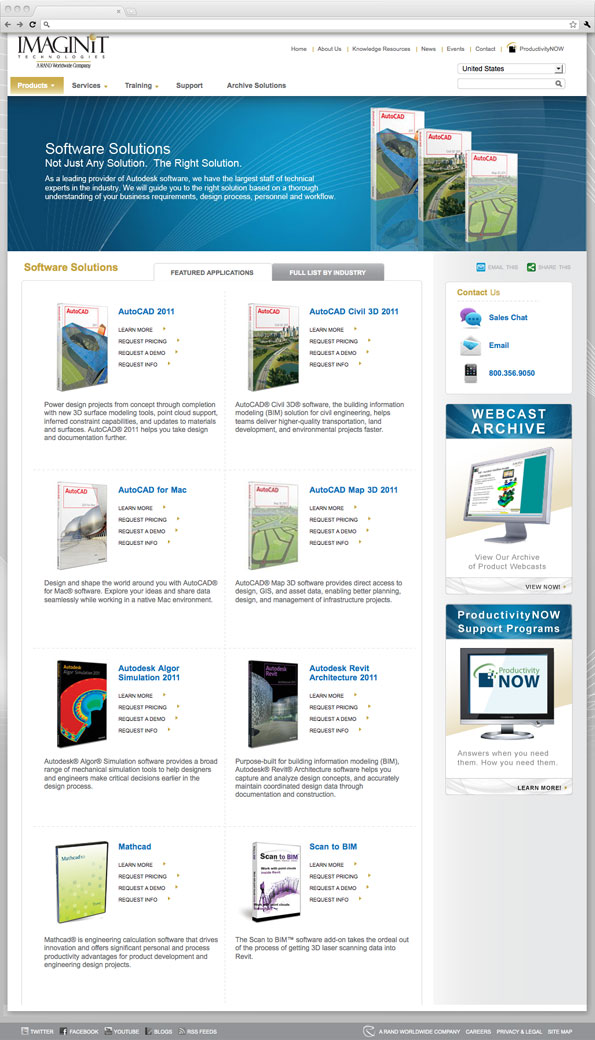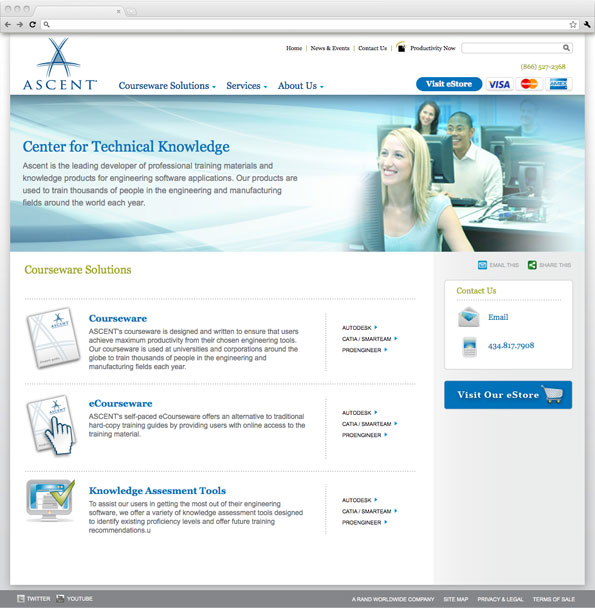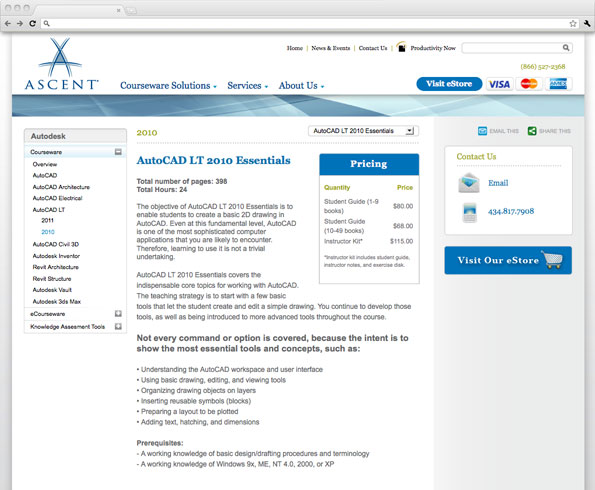 Logos, Cool Stuff and Works in Progress
Various designs and illustrations for things finished, on hold or ongoing
Here are some nice logos and uncatagorized pieces of eye candy I've done over the years.
Responsible For
Art Direction
Design
Illustraion
Web Development